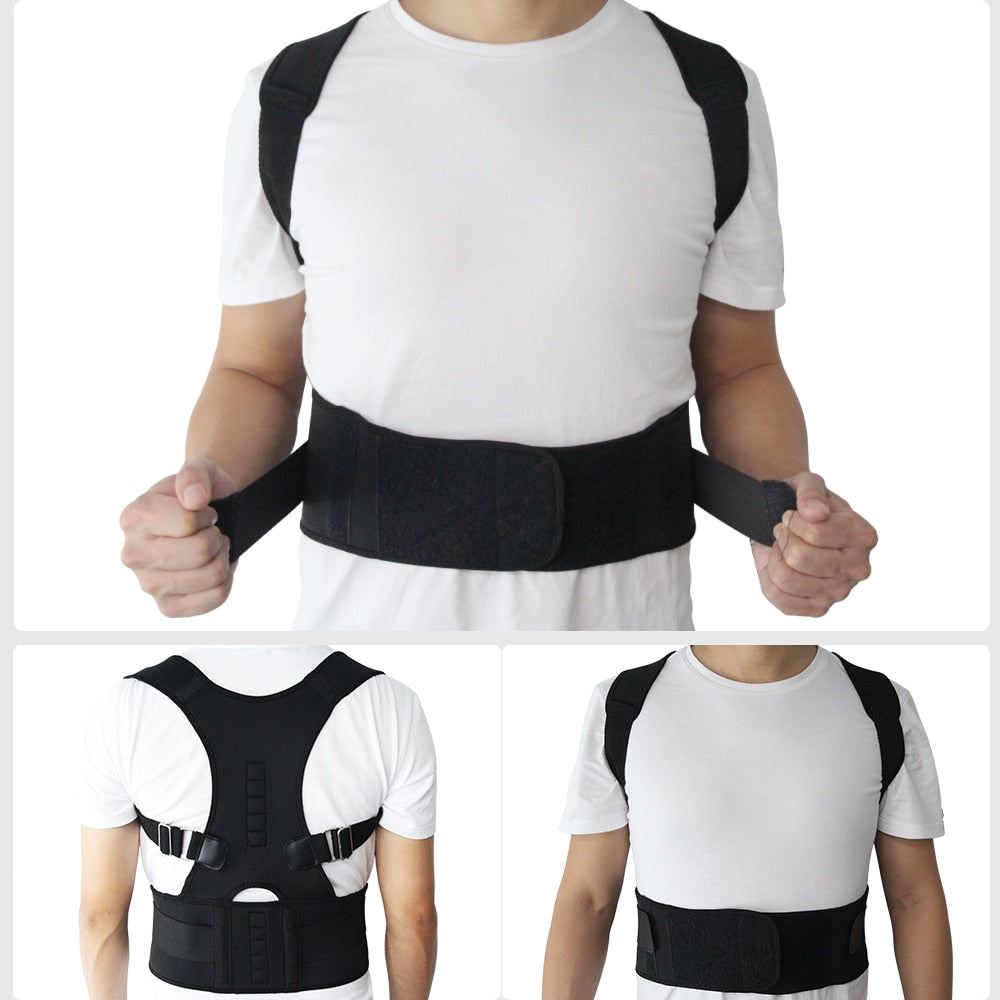 Magnetic Therapy Posture Corrector Brace Shoulder Back Support Belt for Men Women Braces & Supports Belt Shoulder Posture Magnetic Therapy Posture Correct Shoulder Posture
Magnetic Therapy Posture Corrector Brace Shoulder Back Support Belt for Men Women Braces & Supports Belt Shoulder Posture Magnetic Therapy Posture Correct Shoulder Posture
P
rovides firm but delicate backing, holding you up from slouching. Contrived of featherweight breathable stuff with durable stitching offers extra long-lasting comfort and backup. No matter, if you are stuck to sit and work for hours in the office or you stand still and operate the factory plant, this tool suits any routine.
An Undetectable Outfit
Completely undetectable clothing. Wear discretely and enjoy your new look. Works as an amazing outfit that enhances your personality while remaining an untold reality.
It is a versatile unisex solution best for correcting poor posture and refining your look.
Easy Care
Designed in a way easy to use, wash and last longer.
Order Now Order confidently!
Like the entire range of our product line, Real Doctors Posture Support! Made of a soft, stretchy blend of neoprene, it is lined with cotton for comfort and fits discretely under clothing. Hand washes.
PLEASE NOTE:
If you receive the product and it has some smell, please do not worry, it is not poisonous, you can wash it and hang it on the balcony for a week, the smell will slowly disappear.
Please wear it outside of your clothes, to prevent it hurt your skin.
Size Chart:
S Waist: 65 - 77 cm / 25.59 - 30.31 inch
M Waist: 77 - 88 cm / 30.31 - 34.65 inch
L Waist: 88 - 98 cm / 34.65 - 38.58 inch
XL Waist: 92 - 105 cm / 36.22 - 41.34 inch
2XL Waist: 110 - 120 cm / 43.31 - 47.24 inch
3XL Waist: 120 - 130 cm / 47.24 - 51.18 inch
4XL Waist: 130 - 140 cm / 51.18 - 55.12 inch
Why Nupono?
2-7 days US Fast shipping on supplements
Free US shipping over $69
Paypal buyers Protection
High quality Non gmo products manufactured in the USA
14 days return
24/7 Friendly customer service
SHIPPING
*
SUPPLEMENTS/VITAMINS
are processed within 2-3 business days; Delivered within 2-5 business days for USA customers, 7-14 business days for worldwide.
*
NON-SUPPLEMENTS
(Any product that is not considered a supplement or vitamin) are processed within 3-5 business days; Delivered within 3-12business days for USA-residing customers, 3-4 weeks for worldwide.
* Tracking updates will be sent via email
* Any questions about your package or order will be happily answered by our Customer Satisfaction Team within 24 hours
CONTACT US ANYTIME
* For any queries, feel free to reach out to us at nuponoservice@gmail.com
* Or text us at 626-375-5051 9am- 6pm PST Los Angeles USA
SAFE & SECURE PAYMENTS
* We use encrypted SSL security to ensure that your credit card information is
100 PROTECTED
PROOF
Check out our amazing Reviews from satisfied Happy customers:
Click here