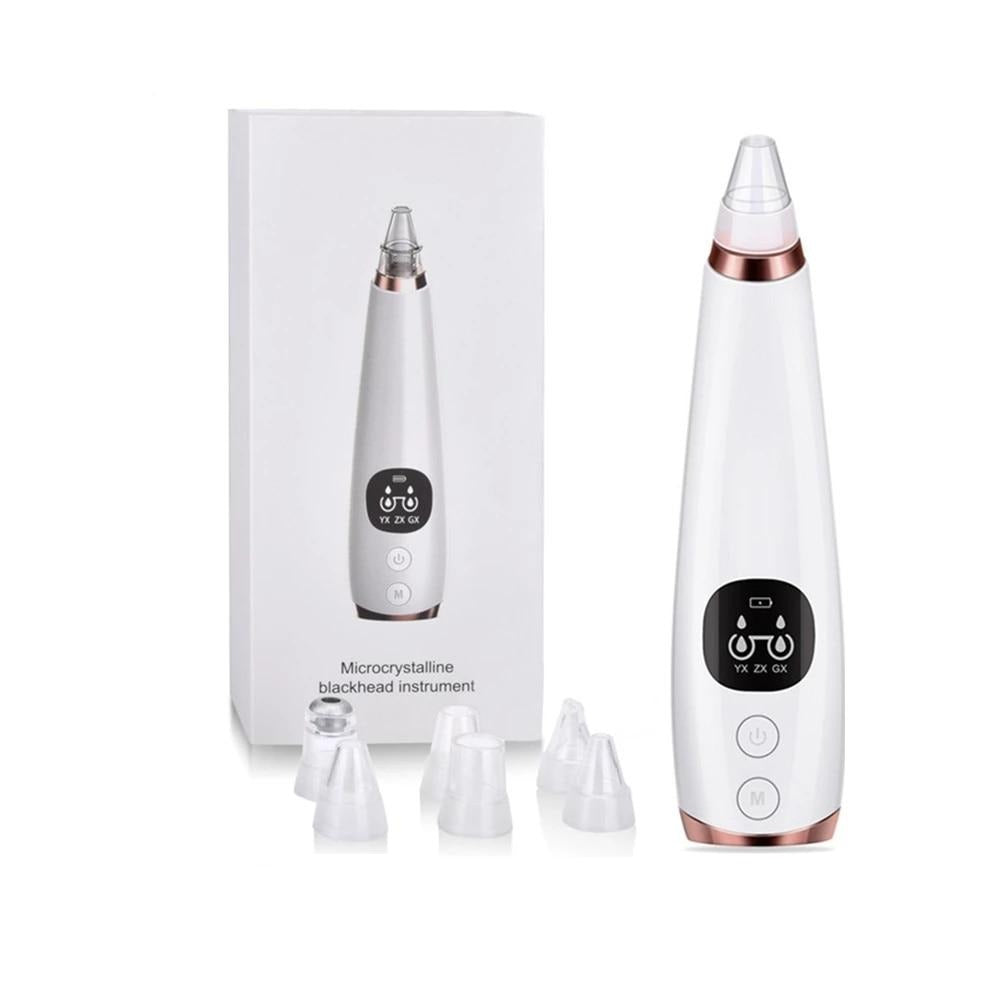 Blackhead Remover Vacuum Pore Cleaner Electric Nose Face Deep Cleansing Skin Care Machine Birthday Gift Beauty Tool
 Pore Cleaner Face Cleaning Blackhead Vacuum Acne Removal Suction Black Spot Cleaner Facial Cleansing Cosmetology Face Machine
Features:
Three-speed adjustment, deep cleaning Physically sucking blackheads, dredging pores, and exporting dirt Turn on the ion export function, and use the physical positive and negative alternate flow to suck out the blackheads deep in the pores and deep facial cleansing.

Intelligent powerful suction blackheads. Hot compress massage introduction instrument. 6 major advantages: achieve multiple effects, not only remove blackheads but also enhance your face value Bottom heating, constant temperature introduction instrument, promote the introduction of mask nutrient solution, thermal massage. Export negative pressure, suck blackheads, clean face, and refresh all day.
Specification
Product Name: Blackhead Remover Vacuum
Material: ABS+PC
Input power: <4.0w
Input voltage: 5V
Input current: <1A
Battery capacity: 850MAH
Battery type: lithium battery(USB Charging)
Suction: 53KPA
Charging time: about 200 minutes
Use time: about 150 minutes
Model number: 6576692527304
Hot Compress Blackhead Remover Vacuum Suction Face Pimple Acne Comedone Extractor Facial Pores Cleaner Skin Care Tool
3 Levels of temperature: 38°,42°,45°
Function:
Remove Blackhead, deeply clean face use for the dry skin use for the sagging skin and wrinkle, skin Rejuvenation use for the stain and dull skin, reduce skin hyperpigmentation.
Note:
Before using, please apply a hot towel and use the blackhead export serum. Long press to turn on the machine! Long press to turn on the machine! Only when equipped with the probe tightly, the suction function can work!!
Steps for usage:
Use warm water to clean the face before use, then apply a hot towel to the face or use a steaming machine to heat the face for 5 to 10 minutes. Wait until the pores are open before using them. (if you have Blackhead export essence, you can apply it on the nose for about 5-10 minutes )
Choose the appropriate probe and install
Turn on the blackhead remover machine, move gently on the skin
Finally, apply Pore Care Essence for about 15 minutes to shrink the pores. Or apply a cold mask or toner to the machine to skink pores
Packing Included:
1 x Blackhead Remover 5 x Probe 1 x USB Charge Cable 1 x Manual
How to use:
STEP 1: Clean your face, use the blackhead educe liquid or facial steamer to open the pore.
STEP 2: According to your requirements, choose among the Five Level Suction. Start with the lowest.
STEP 3: Move the blackhead cleanser back and forth around the pore with a constant speed, slowly move, do not stay in one place for too long to avoid injury, and do not press it hardly or pull vertically.
STEP 4: After washing your face, please use an ice towel or cold water or shrinking liquid to restore the treated pore.
Why Nupono?
2-7 days US Fast shipping on supplements
Free US shipping over $69
Paypal buyers Protection
High quality Non gmo products manufactured in the USA
14 days return
24/7 Friendly customer service
SHIPPING
*
SUPPLEMENTS/VITAMINS
are processed within 2-3 business days; Delivered within 2-5 business days for USA customers, 7-14 business days for worldwide.
*
NON-SUPPLEMENTS
(Any product that is not considered a supplement or vitamin) are processed within 3-5 business days; Delivered within 3-12business days for USA-residing customers, 3-4 weeks for worldwide.
* Tracking updates will be sent via email
* Any questions about your package or order will be happily answered by our Customer Satisfaction Team within 24 hours
CONTACT US ANYTIME
* For any queries, feel free to reach out to us at nuponoservice@gmail.com
* Or text us at 626-375-5051 9am- 6pm PST Los Angeles USA
SAFE & SECURE PAYMENTS
* We use encrypted SSL security to ensure that your credit card information is
100 PROTECTED
PROOF
Check out our amazing Reviews from satisfied Happy customers:
Click here