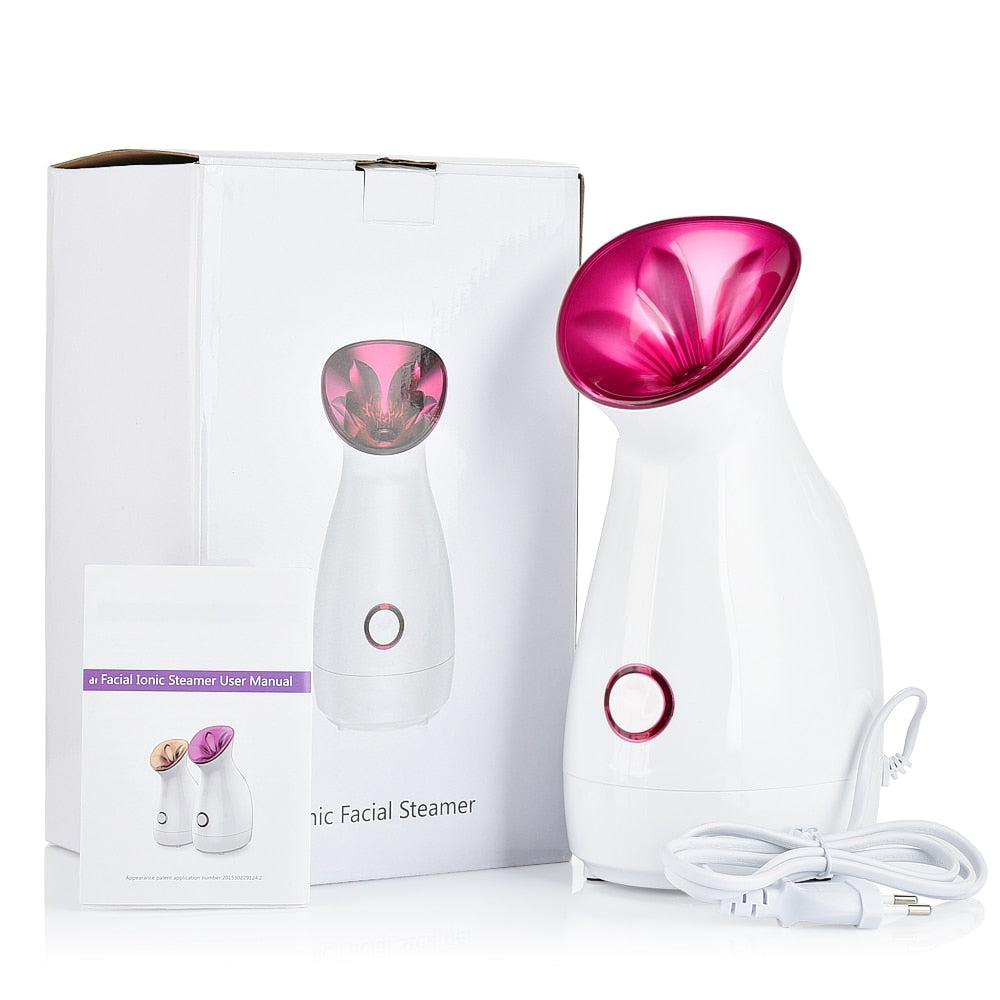 Facial Steamer Nano Lonic Humidifier Moisturizing Cleaning Pores Clearing Blackheads Hot Mist Sprayer Home Sauna SPA Skin Care|Home Use Beauty Devices|
Hot Mist Sprayer Facial Steamer Nano Ionic Humidifier Moisturizing Cleaning Pores Clearing Blackheads Home Sauna SPA Skin Care Tools
Specification:
Item Name: Hot Mist Facial Steamer

Steam temperature: about 40℃

Bottle Capacity:70ml

Plug: EU Plug, US Plug

Power:280w

Model No.: 6576446996680
Feature:
Opens & Unclogs Pores: Removes Dirt, Oil & Makeup; Melts Away Dead Skin Cells; Make toner, cream, and other nutrients absorbable
Quickest Start-to-Steam Time: Generates Full-Powered Steam in Under 30 Seconds Advanced Ultrasonic Atomizer Silently & Effectively Turns Clean Water into Micro-Fine Particles to Produce a Powerful, Consistent Mist
Performs Double Duty: Use as Direct Skin Indulgence & Treatment, or Simply Let Steamer
Compact and portable: Small body for your convenience to use anywhere like a living room, washroom, or bedroom
Note:
1. Before using the first time, please let it run with a full tank of water with a few drops of lemonade to remove the plastic smell.
2. Only use purified water for steaming. Adding essential oil or any other aromatherapy solution might affect the working life of the steamer.
3. The steam temperature is approximate 104 °F. For use safety, please keep your face at a distance of 20cm to the Nozzle when steaming.
4. A full tank of water supports steaming for about 8~10 minutes.
Package Included:
Why Nupono?
2-7 days US Fast shipping on supplements
Free US shipping over $69
Paypal buyers Protection
High quality Non gmo products manufactured in the USA
14 days return
24/7 Friendly customer service
SHIPPING
*
SUPPLEMENTS/VITAMINS
are processed within 2-3 business days; Delivered within 2-5 business days for USA customers, 7-14 business days for worldwide.
*
NON-SUPPLEMENTS
(Any product that is not considered a supplement or vitamin) are processed within 3-5 business days; Delivered within 3-12business days for USA-residing customers, 3-4 weeks for worldwide.
* Tracking updates will be sent via email
* Any questions about your package or order will be happily answered by our Customer Satisfaction Team within 24 hours
CONTACT US ANYTIME
* For any queries, feel free to reach out to us at nuponoservice@gmail.com
* Or text us at 626-375-5051 9am- 6pm PST Los Angeles USA
SAFE & SECURE PAYMENTS
* We use encrypted SSL security to ensure that your credit card information is
100 PROTECTED
PROOF
Check out our amazing Reviews from satisfied Happy customers:
Click here