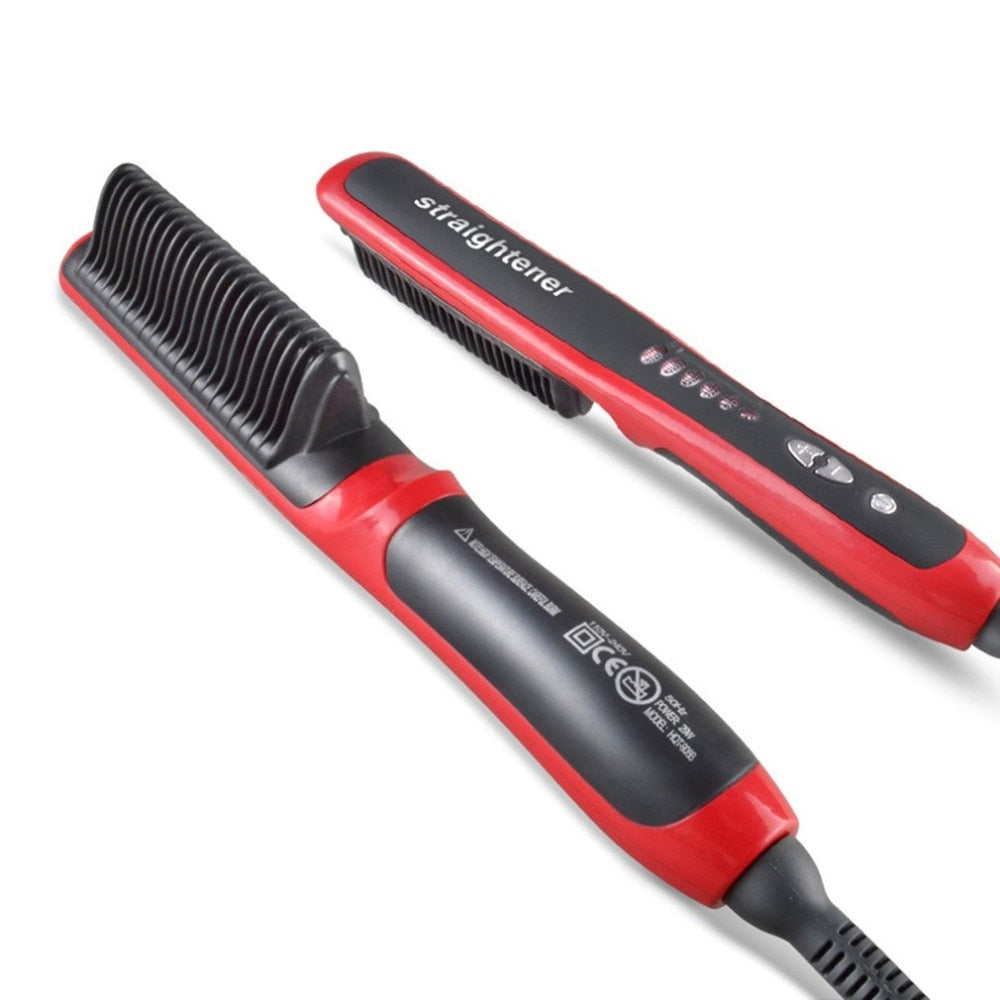 Men Beard Straightener Hot Heating Comb Hair Straightener Brush Multifunctional Hair Comb Smoothing Iron Hair Straightening Brush
Men Beard Straightener Hot Heating Comb Hair Straightener Brush Multifunctional Hair Comb Smoothing Iron Hair Straightening Brush
Item Information

Thermal conductor diameter: 16MM-20MM
Thermal material: tourmaline ceramic
Power: 25W-39W
Best Costume time: 3-5 minutes
Applicable hair: dry hair
Temperature control: 6 segment
Appearance: Plastic
Maximum temperature: 200 ℃
The lowest temperature: 130 ℃
Type: Multifunction ·
Heat generation: PTC
Voltage: 110V-220
Power cord length: about 2 meters, 360 degrees rotation.
The hair straightener brush gives the quick professional result of silky straight hair in minutes that you dreamed of, allows you to get ready quickly for going out in rush morning hours, instead of wrestling with the blow dryers day after day.
This hairbrush for straightening hair leaves your hair silky, straight, and smooth from the very first stroke. It heats up to 293℉ (145℃) in 30 seconds, max 392℉ (200℃), auto keep constant temperature at 293℉(145℃), your hair will be basically settled in 8-10 seconds.
Temperature setting guide: Customized set 266℉ (130℃) for the first time, or a soft thin hair; Customized set 293℉ (145℃) for common slight curly hair; Customized set320℉ (160℃)/ 338℉ (170℃) for blonde, dyeing or colored hair; Customized set374℉ (190℃)/ 356℉ (392℃) for very thick, curly and hard to straighten;
Why Nupono?
2-7 days US Fast shipping on supplements
Free US shipping over $69
Paypal buyers Protection
High quality Non gmo products manufactured in the USA
14 days return
24/7 Friendly customer service
SHIPPING
*
SUPPLEMENTS/VITAMINS
are processed within 2-3 business days; Delivered within 2-5 business days for USA customers, 7-14 business days for worldwide.
*
NON-SUPPLEMENTS
(Any product that is not considered a supplement or vitamin) are processed within 3-5 business days; Delivered within 3-12business days for USA-residing customers, 3-4 weeks for worldwide.
* Tracking updates will be sent via email
* Any questions about your package or order will be happily answered by our Customer Satisfaction Team within 24 hours
CONTACT US ANYTIME
* For any queries, feel free to reach out to us at nuponoservice@gmail.com
* Or text us at 626-375-5051 9am- 6pm PST Los Angeles USA
SAFE & SECURE PAYMENTS
* We use encrypted SSL security to ensure that your credit card information is
100 PROTECTED
PROOF
Check out our amazing Reviews from satisfied Happy customers:
Click here