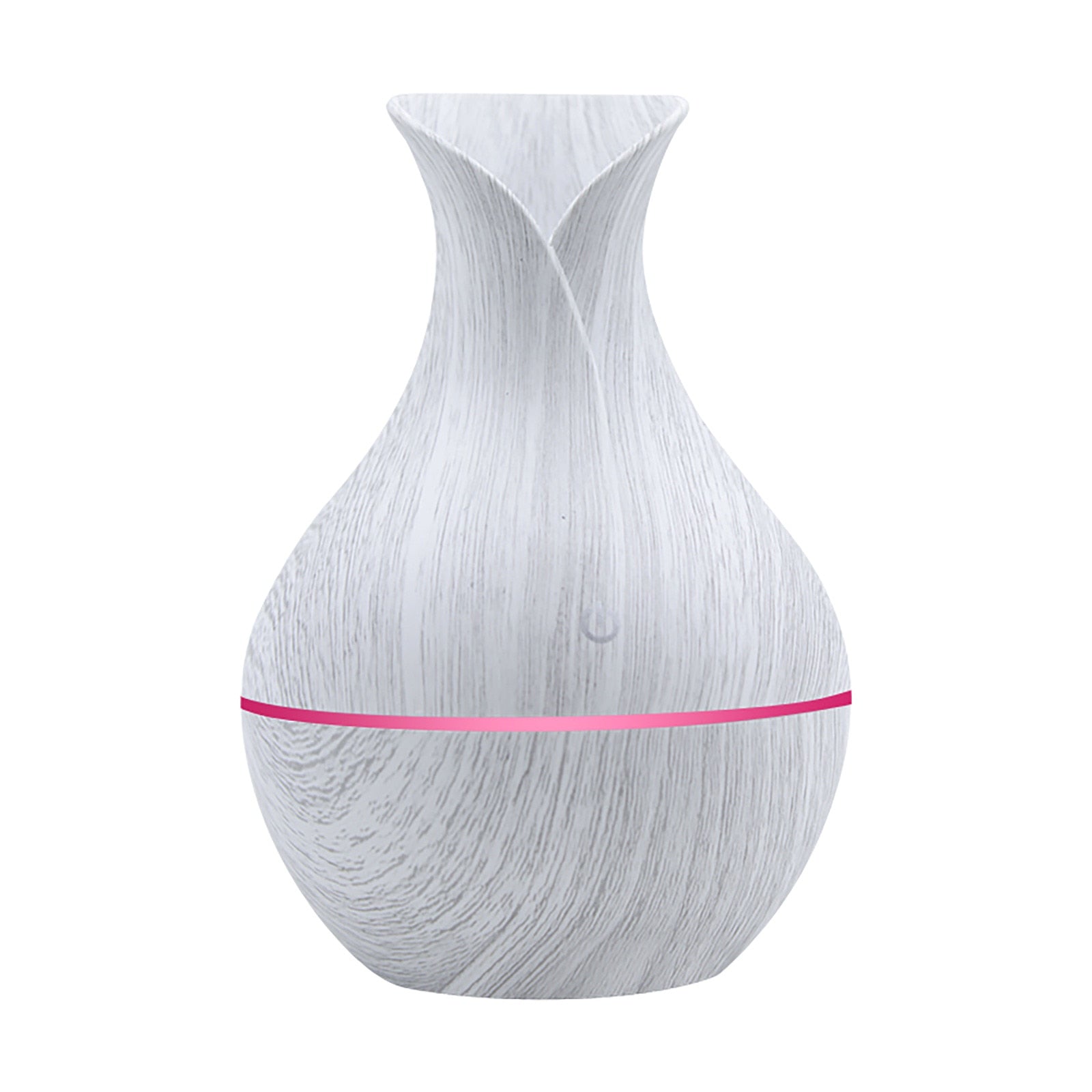 130ml Air Aroma Essential Oil Diffuser Led Aroma Aromatherapy Humidifier Wooden Aroma Essential Oil Diffuser
Air Aroma Essential Oil Diffuser LED Aroma Aromatherapy Humidifier
Feature:
100% brand new and high quality
USB Mini humidifier
Size: Approx.103X103X145mm
Weight: 130g
AC Adaptor: DC 5V
Cable Length: 1m
Rated Power:3 watt
Water Capacity: 130ml
Before power on, make sure there is enough water in the tank, this product can not be turned on in the case of no water
Spray part can not be placed in water or rinse under the tap, please wipe clean with a damp cloth or wet sponge
Add water shall not exceed the waterline, so as not to overflow, must ensure that there is enough water in the water tank
Replace the tank of water a day to ensure that the use of premises fresh air
Beauty: Refresh skin and can be taken as skincare, keep skin healthy and moist
Decoration: Chose the light you like to make the room romantic and happy, smells nice
Humidify: Humidify the air in the room during summer and winter, refreshes the quality of the air we breathe
Purify: Neutralizes static, reduce infection of the skin
Relief: Aroma therapy, relieve stress
A Perfect 7 Colors Night Light of this aroma diffuser can create a relaxing and romantic ambiance.
Note:
You should press the switch again every two hours Package included
1 x Humidifier
1x manual
1xusb data cable

 

 

 

 

 

 

 

 

 

 

 

 

 

 

 

 

 

 

 

 

 

 

 

 

 

 

 

 

 

 

 

 

 

 

 

 

 

 

 

 

 

 

 

 

 

 

 

 

 

 

 

 

 

 

 

 

 

 

 

 

 

 

 

 

 

 

 

 




 

 

 

 
Why Nupono?
2-7 days US Fast shipping on supplements
Free US shipping over $69
Paypal buyers Protection
High quality Non gmo products manufactured in the USA
14 days return
24/7 Friendly customer service
SHIPPING
*
SUPPLEMENTS/VITAMINS
are processed within 2-3 business days; Delivered within 2-5 business days for USA customers, 7-14 business days for worldwide.
*
NON-SUPPLEMENTS
(Any product that is not considered a supplement or vitamin) are processed within 3-5 business days; Delivered within 3-12business days for USA-residing customers, 3-4 weeks for worldwide.
* Tracking updates will be sent via email
* Any questions about your package or order will be happily answered by our Customer Satisfaction Team within 24 hours
CONTACT US ANYTIME
* For any queries, feel free to reach out to us at nuponoservice@gmail.com
* Or text us at 626-375-5051 9am- 6pm PST Los Angeles USA
SAFE & SECURE PAYMENTS
* We use encrypted SSL security to ensure that your credit card information is
100 PROTECTED
PROOF
Check out our amazing Reviews from satisfied Happy customers:
Click here