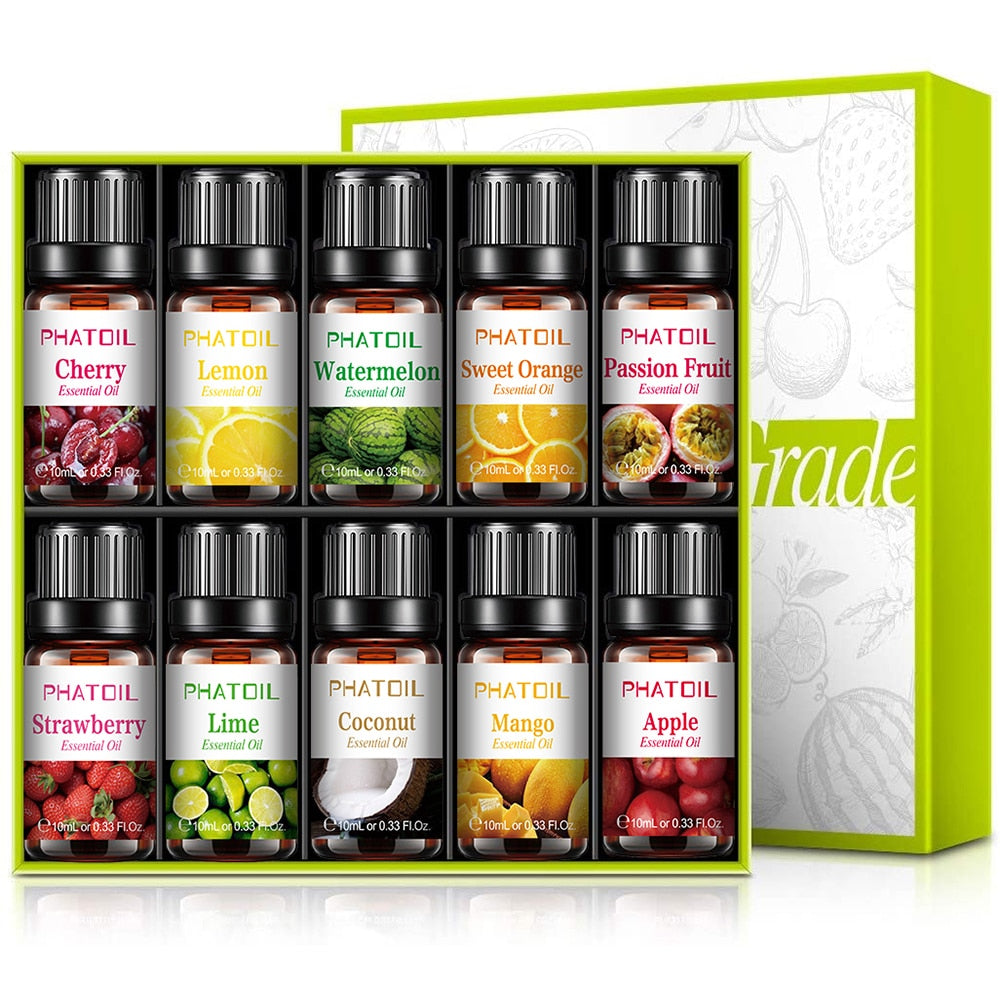 10pcs Fruit Fragrance Essential Oils Gift Set Strawberry Mango Watermelon Passion Fruit Coconut Flavoring Oil for Candle Making
10pcs Fruit Fragrance Essential Oils Gift Set Strawberry Mango Watermelon Passion Fruit Coconut Flavoring Oil for Candle Making
10ml fruit essential oils.No additive, no fillers, just pure essential oil.
Each essential oil comes with 10ml amber brown bottles. This will keep the oils fresh and help against light degradation. The fruit essential oil has a pleasant and energetic aroma that helps ease anxiety and stress. The fruity scent is quite suitable for mental health, soothing the tiring brain, and relieving nervousness.
10 in 1 Fruit Essential Oil set, perfect for diffusers, humidifiers, oil burners, Spa, and air purifiers. It comes with a beautiful box, a wonderful Essential oils gift option, which is fashionable enough and would be fantastic as a present to family or friends.

Specification:
Item Type:  Natural Fruit Essential Oil
Net Content: 10ml/0.33fl.oz
Quantity: 10pcs/set
* The product contains no animal ingredients and is not tested on animals.

Benefits of diffusing essential oils:

Apple(Malus pumila)

Apple Essential Oil has a refreshing, clean, crisp aroma with a slightly sweet undertone. It contains fatty acids that promote the overall skin's appearance. It provides softness as well as nutrition to the skin. It shows efficacy in enhancing collagen, blocking UV rays, and anti-aging.

Cherry(Cerasus pseudocerasus)

Cherry Essential Oil emits a relaxing and calming effect that soothes even the tensest muscles and eases the mind when used in aromatherapy. It can fight free radicals, cure and prevent dry skin, cure and prevent acne, efficient anti-aging, helps repair scars. Cherry essential contains oleic acid, which helps hair grow thicker, faster, and stronger, prevents dandruff.

Coconut(Cocos nucifera)

Coconut Essential Oil has a delightful exotic and mysterious aroma. It is particularly abundant in nutrients that have very useful advantages to boost and renew the skin. Coconut oil can reduce the proportion of cholesterol, it is not easy to increase the body's metabolic load and prevent heart disease and other cardiovascular diseases. It can be used in cosmetics, skincare, and anti-aging. It has a strong antioxidant capacity and can help the body avoid oxygen-free radicals.

Lemon(Citrus limon)

The lemon essential oil has a very fresh and clean aroma, with a little sour and uplifting power. It is commonly used to deter germs by spraying or adding into diffusers at home as a powerful fungicide. Lemon is also widely used to ease stress, combat fatigue, help repel insects, relieve migraines and insomnia. It helps support healthy respiratory, circulatory, and digestive systems that could balance skin conditions as well.

Lime(Citrus aurantium)

Lime Essential Oil has many health benefits. It is a natural immune system booster and supports natural weight loss when used in conjunction with a weight management program or exercise program. May aid in mental clarity and reduce stress. It is very uplifting to the body and mind. Very light and improves concentration.

Mango(Mangifera indica)

Mango Essential Oil provides people with ample health benefits. It not only helps exfoliate your skin, reduces redness, unclogs pores, and has exquisite refine properties but also generates skin cell renewal that prevents wrinkles from forming. It is also exceptionally rich in essential fatty acids, vitamins, and minerals that are wonderful for sustaining healthy hair. It can moisturize and thicken your hair and may even help prevent hair loss. It also emits a relaxing and calming effect that soothes even the tensest muscles and eases the mind.

Passion Fruit(Passiflora edulia Sims)

Passion Fruit Essential Oil has an essential element - linoleic acid, which can resist free radicals and aging, helps the skin absorb vitamins C and E, reduces UV damage, protects the collagen in the skin, and prevents melanin precipitation. It helps ignite feelings of excitement, passion, and joy. By inhaling passion fruit oil molecules in the air, you will feel inspired, counteract negative feelings of boredom and disinterest.

Strawberry(Fragaria × ananassa Duch)

Strawberry Essential Oil can balance emotions and reduce fatigue when used in aromatherapy. It is rich in fatty acids and antioxidants that keep the skin looking young and moisturize your skin.

Sweet Orange(Citrus aurantium)

Sweet Orange Essential Oil prevents colds and moisturizes the skin, drives away tension and stress, improving sleep quality. It
Effect: Relieve Fatigue, Improve air quality, etc
Package included:
10mlx Bottle PHATOIL Strawberry Fragrance Oil
10mlx Bottle PHATOIL Cherry Fragrance Oil
10mlx Bottle PHATOIL Passion Fruit Fragrance Oil
10mlx Bottle PHATOIL Mango Fragrance Oil
10mlx Bottle PHATOIL Lime Fragrance Oil
10mlx Bottle PHATOIL Orange Fragrance Oil
10mlx Bottle PHATOIL Lemon Fragrance Oil
10mlx Bottle PHATOIL Coconut Fragrance Oil
10mlx Bottle PHATOIL Watermelon Fragrance Oil
10mlx Bottle PHATOIL Apple Fragrance Oil
1 x Beautiful PHATOIL Strong Box

How Best To Use These Oils:
There are many, many ways to use our Essential Oils, here are just a few...
Smell the aroma- Directly put the essential oil in the diffuser/fragrant wood / diffused stone, smelling the aroma
Oil Burners- One of the most popular ways is using them with an oil burner. Adding a few drops to your oil burner will create a lasting beautiful aroma, you can also mix oils to create your own smell.
Bath- Adding 2-3 drops of our oils to your bath creates a heavenly, natural and pure aroma, and is proven to be a highly effective way to get the most out of essential oils.
Massage- Our oils are strong, so please do not use them directly on your skin. Adding a few drops to carrier oils (such as Grapeseed oil), and then massaging it onto your forehead, palms, neck, back, feet or other affected areas work wonders.
Essential Oils Spray- Blend pure plant essential oils into alcohol (usually within 30%) at a certain ratio to make personal perfumes/fragrance sprays, which will delight the body and mind / purify air/disinfection and sterilization
Making your own- Many of you like create your own soaps, candles and beauty products, and these oils are perfect for that. They are of therapeutic grade, natural, pure, and all handmade in the UK, making them ideal for you creative souls out there who make your own products.
Others- Other popular ways apart from the above include, diffusers, on your pillow at night, meditation, car air fresheners, and steam/saunas.
Warning:
* Do not use essential oils internally.
* Do not apply directly to the skin; always dilute with a carrier oil.
* Keep out of reach of children.
* Avoid contact with eyes and mucous membranes.
* Do not use citrus oils before exposure to UV light.
* Use only pure essential oils; avoid synthetic fragrances.
* Avoid prolonged exposure without ventilation.
* Store essential oils and carrier oils properly to avoid degradation and rancidity.
Why Nupono?
2-7 days US Fast shipping on supplements
Free US shipping over $69
Paypal buyers Protection
High quality Non gmo products manufactured in the USA
14 days return
24/7 Friendly customer service
SHIPPING
*
SUPPLEMENTS/VITAMINS
are processed within 2-3 business days; Delivered within 2-5 business days for USA customers, 7-14 business days for worldwide.
*
NON-SUPPLEMENTS
(Any product that is not considered a supplement or vitamin) are processed within 3-5 business days; Delivered within 3-12business days for USA-residing customers, 3-4 weeks for worldwide.
* Tracking updates will be sent via email
* Any questions about your package or order will be happily answered by our Customer Satisfaction Team within 24 hours
CONTACT US ANYTIME
* For any queries, feel free to reach out to us at nuponoservice@gmail.com
* Or text us at 626-375-5051 9am- 6pm PST Los Angeles USA
SAFE & SECURE PAYMENTS
* We use encrypted SSL security to ensure that your credit card information is
100 PROTECTED
PROOF
Check out our amazing Reviews from satisfied Happy customers:
Click here