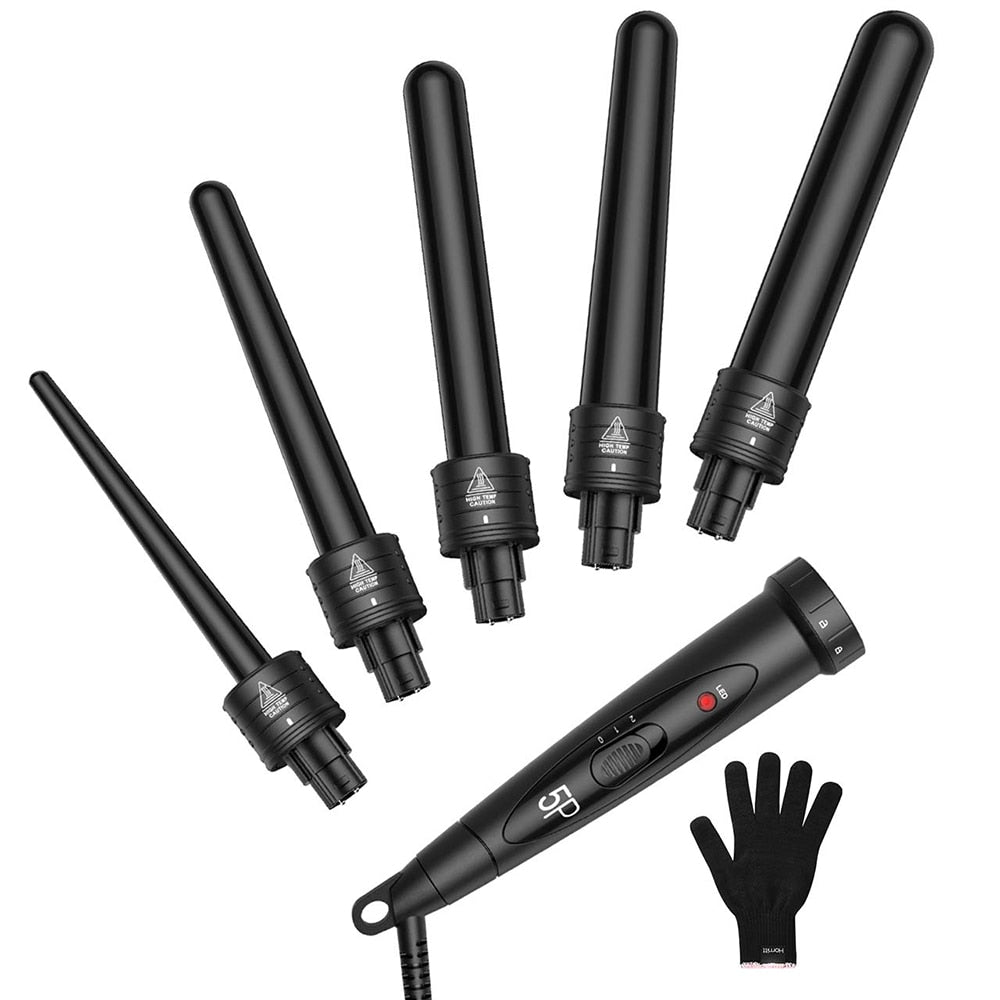 5 in 1 Curling Iron Wand Hair Curling Iron Crimp Corrugation for Hair Styling Tools 9 32mm Hair Crimper Professional Hair Curler
5 in 1 Curling Iron Wand Hair Curling Iron Crimp Corrugation for Hair Styling Tools 9 32mm Hair Crimper Professional Hair Curler
Product Information
Power:85w/50-60Hz
Voltage:100-240V
Heating Method: PTC heating
Package Weight: 2.04lbs
Package Dimensions:15.3x4.7x2.4 inches
Power cord length: about 2 meters, 360 degrees rotation.
Product Information
INTERCHANGEABLE CERAMIC BARRELS: The size of the curling barrels is 0.35-0.71 inch, 0.71-1 inch, 1-1 inch, 1-1.25 inch, 1.25-1.25 inches. These sizes give you five options, meet your different curling style needs, such as big curls, waves, corkscrew curls, and ringlets and bounce.
ADJUSTABLE TEMPERATURE: The ceramic barrel can heat up within 60 seconds. And there is a button that adjusts the temperature from "1" (300℉) to "2" (410℉). The higher temperature applies to thick and stiff hair, and the bottom applies to fine and soft hair.
SAFE AND CONVENIENT: The plug meets US standard, universal dual voltage (110 - 240V AC). 360° rotatable tail keeps the line shapely, to prevent the winding. Heat-resistant gloves are offered free to protect the hand when curling hair.
STRONGEST AND DURABLE: The curling wand set is made of high-quality PTC, pottery coating for barrel, PET material for handle, the cord is 8 ft, and get UL certified.
3 tube size
The size of Tube 1: 9-19mm
The size of Tube 2: 19-25mm
The size of Tube 3: 25mm
5 tube size
The size of Tube 1: 9-19mm
The size of Tube 2: 19mm
The size of Tube 3: 19-25mm
The size of Tube 4: 25mm
The size of Tube 5: 32mm
Buyer Real PIcture Show
Why Nupono?
2-7 days US Fast shipping on supplements
Free US shipping over $69
Paypal buyers Protection
High quality Non gmo products manufactured in the USA
14 days return
24/7 Friendly customer service
SHIPPING
*
SUPPLEMENTS/VITAMINS
are processed within 2-3 business days; Delivered within 2-5 business days for USA customers, 7-14 business days for worldwide.
*
NON-SUPPLEMENTS
(Any product that is not considered a supplement or vitamin) are processed within 3-5 business days; Delivered within 3-12business days for USA-residing customers, 3-4 weeks for worldwide.
* Tracking updates will be sent via email
* Any questions about your package or order will be happily answered by our Customer Satisfaction Team within 24 hours
CONTACT US ANYTIME
* For any queries, feel free to reach out to us at nuponoservice@gmail.com
* Or text us at 626-375-5051 9am- 6pm PST Los Angeles USA
SAFE & SECURE PAYMENTS
* We use encrypted SSL security to ensure that your credit card information is
100 PROTECTED
PROOF
Check out our amazing Reviews from satisfied Happy customers:
Click here