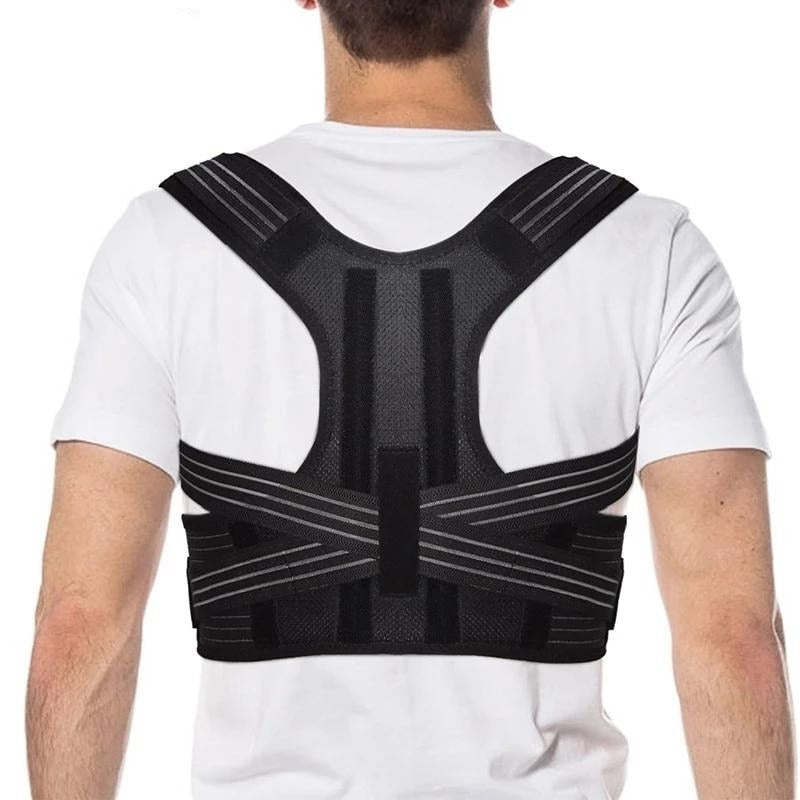 Posture Corrector Brace Shoulder Back Support Belt for Unisex Braces & Supports Belt Shoulder Posture
Posture Corrector Brace Shoulder Back Support Belt for Unisex Braces & Supports Belt Shoulder Posture
Description
POSTURE CORRECTOR: This is a simple, non-surgical way to correct the humpback, improve the correct posture, and help you relieve the pain in the shoulder and back
APPLICABLE TO A VARIETY OF ENVIRONMENTS: Can be used at the home, office, gym, yoga room, and outdoor. Can be put directly on the clothes, skin irritation would not be caused by the support band
PERFORATION DESIGN, BREATHABLE, COMFORTABLE: The postural correction belt is made of very soft composite fabric and nylon tape, and breathable holes are adopted in back and shoulder straps. Heat dissipation and permeability have been upgraded to improve the comfort of wearing
MAGIC PASTE OF HIGH QUALITY, FREE ADJUSTMENT: The angles needed to correct are different, the design of the correction belt can adopt an adjustable nylon belt with a magic paste of high quality so that it can be adjusted freely through the shoulder band
SITTING POSITION IMPROVEMENT: Applicable to men, women, and youth(teenagers). Unhealthy posture can lead to long-term back pain, muscle pain, myopia, and other medical problems. Wearing a back corrector can develop muscle memory for a period of time, and you can keep your back straight even if you don't wear a posture correction device
Functions:
Muscle pain relief
The coronal and lumber section of the frontal plane maintains the gravity balance of the body, reduces the burden on the muscles, corrects and relieves pain, and bad postures would cause sore necks and shoulders, and even headaches
The role of protection
Wearing is comfortable and breathable, can be applied to all including men and women, young and old, it can play a good role in correcting the back. Applicable to those workers with pain in the back and shoulder due to the long time standing, sitting, or keeping of the same posture
Easy to adjust and wear
Universal size, easy to wear, without any help, you can take off and wear a pose
Corrector by yourself
we have spent a lot of effort and time (and enjoyed every moment) to bring this amazing posture brace to you. A clavicle brace is light in weight to avoid causing you any trouble carrying it. The material used is washable and breathable with soft padding to provide you with the utmost comfort so you don't feel claustrophobic and prevents you from facing problems such as underarm cuts and provides high back
support.
Package Included:
1*POSTURE CORRECTOR
Why Nupono?
2-7 days US Fast shipping on supplements
Free US shipping over $69
Paypal buyers Protection
High quality Non gmo products manufactured in the USA
14 days return
24/7 Friendly customer service
SHIPPING
*
SUPPLEMENTS/VITAMINS
are processed within 2-3 business days; Delivered within 2-5 business days for USA customers, 7-14 business days for worldwide.
*
NON-SUPPLEMENTS
(Any product that is not considered a supplement or vitamin) are processed within 3-5 business days; Delivered within 3-12business days for USA-residing customers, 3-4 weeks for worldwide.
* Tracking updates will be sent via email
* Any questions about your package or order will be happily answered by our Customer Satisfaction Team within 24 hours
CONTACT US ANYTIME
* For any queries, feel free to reach out to us at nuponoservice@gmail.com
* Or text us at 626-375-5051 9am- 6pm PST Los Angeles USA
SAFE & SECURE PAYMENTS
* We use encrypted SSL security to ensure that your credit card information is
100 PROTECTED
PROOF
Check out our amazing Reviews from satisfied Happy customers:
Click here