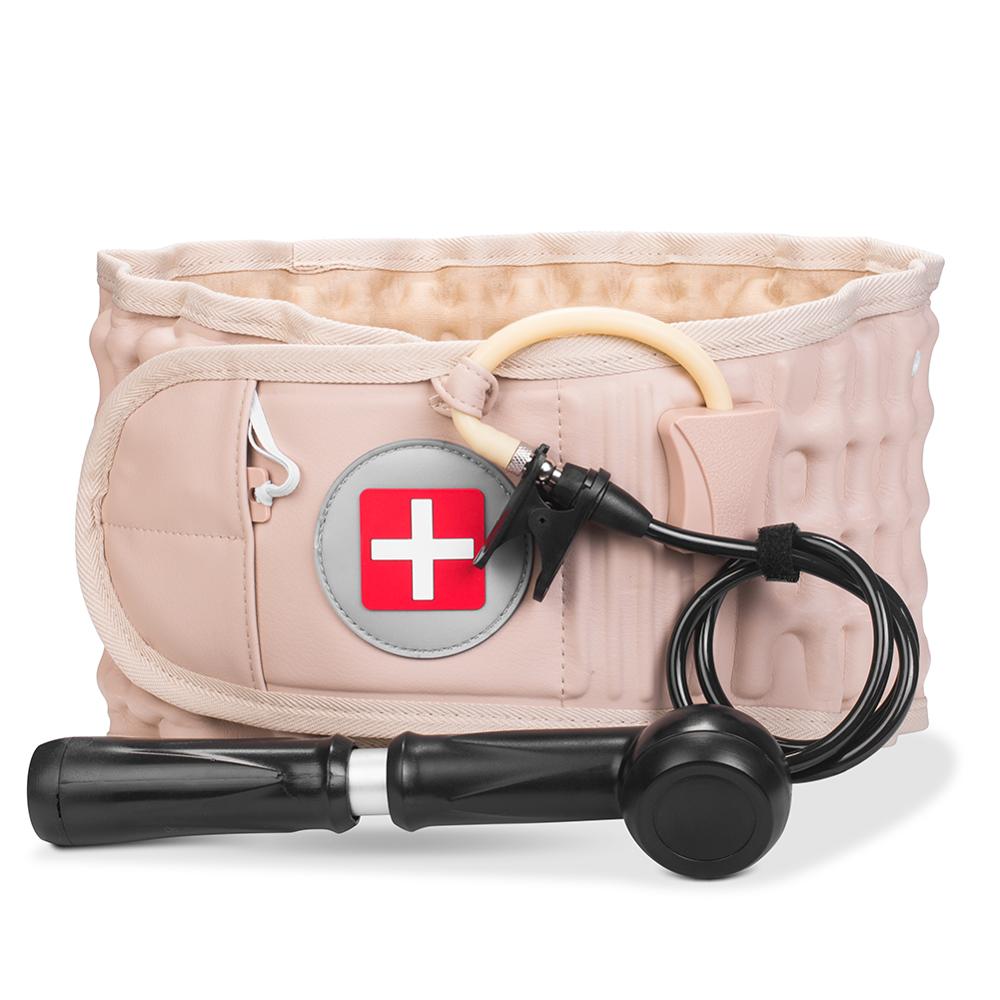 Decompression Lumbar Support Belt Waist Air Traction Brace Spinal Back Relief Belt Backach Pain Release Massager Unisex
Decompression Lumbar Support Belt Waist Air Traction Brace Spinal Back Relief Belt Backach Pain Release Massager Unisex


Specification:

Outer layer: PU(Polyurethane)
Inner layer of air inflation: TPU (special soft material)
Length of Traction Belt 43.3 inch
Length of Extension Belt 7.8 inch
Width Before Inflation 5.1 inch
Width After Inflation 7.9 inch
Waist size: 29-48 inches ( 73cm - 122 cm)


Decompression Therapy Relieves the Pain:
* Hyperplasia of lumbar vertebra.
* Long time driving or sitting.
* Scoliosis and spondylolisthesis.
* Low back pain caused by obesity.
* Chronic and acute back pain.
* Prolapsed lumbar intervertebral discs.
* Degenerative, herniated or bulging discs.
* Scoliosis, Spinal stenosis.
* Trouble sleeping and heavy job.
* Sore back from child and elderly care.
* Abnormal function of small joints of the lumbar vertebra.


Strengthen back and core.
Stretch tight lower back muscles.
Relieve lower back pain and stiffness.
Improve nutrient flow on your spine.
The belt transfers the weight off your spine.
Lift upper body weight off lower back.
Reduce pain and pressure on pinched nerves.
Decompress lower back joints and spinal discs.
Stabilize lower back and improve posture.
Decompress the spine allowing for discs to return to normal.
Help relieve pressure off pinched nerves.


1 x extender belt


1. This belt cannot be immersed into water to wash it.
2. Please measure your waistline to ensure that your belt size is correct.


Why Nupono?
2-7 days US Fast shipping on supplements
Free US shipping over $69
Paypal buyers Protection
High quality Non gmo products manufactured in the USA
14 days return
24/7 Friendly customer service
SHIPPING
*
SUPPLEMENTS/VITAMINS
are processed within 2-3 business days; Delivered within 2-5 business days for USA customers, 7-14 business days for worldwide.
*
NON-SUPPLEMENTS
(Any product that is not considered a supplement or vitamin) are processed within 3-5 business days; Delivered within 3-12business days for USA-residing customers, 3-4 weeks for worldwide.
* Tracking updates will be sent via email
* Any questions about your package or order will be happily answered by our Customer Satisfaction Team within 24 hours
CONTACT US ANYTIME
* For any queries, feel free to reach out to us at nuponoservice@gmail.com
* Or text us at 626-375-5051 9am- 6pm PST Los Angeles USA
SAFE & SECURE PAYMENTS
* We use encrypted SSL security to ensure that your credit card information is
100 PROTECTED
PROOF
Check out our amazing Reviews from satisfied Happy customers:
Click here